The number of revision surgeries performed at our Brisbane plastic surgery clinic has skyrocketed in recent years, with many patients coming to see us from cosmetic clinics for second opinions and to seek options to improve their results following unsatisfactory surgery, rectify post-operative complications such as breast implant displacement, bottoming-out, asymmetry, and more. These trends have brought to light the importance of choosing the right practitioner for your initial breast surgery to avoid greater long-term costs and complications. 
Patients in the market for cosmetic breast surgery often make the mistake of choosing their surgeon according to price. The pitfalls of patients that choose cheap alternatives to experienced practitioners are known all too well by plastic surgeons across the country.
This blog post aims to explain some of the factors that feed into pricing for plastic surgery, and help you understand why a higher price offers a higher value. Hopefully the knowledge gained in this article will help you make more informed decisions when it comes to choosing your surgeon, and will save some of you from the perils and complications of cheap cosmetic surgery. 
The main factor that determines the price of cosmetic breast surgery is the amount of resources allocated to the delivery of a quality product in a safe manner. These include the type of surgeon, the level of expertise, the resources and facilities, and the level of patient care. We will discuss all of these domains in this blog and break down the facts for you. 
Specialist Plastic Surgeon vs. Cosmetic Surgeon
The primary factor determining price for cosmetic breast surgery is whether the practitioner in question is a plastic surgeon or a cosmetic surgeon. ASAPS has played a pivotal role in educating the public regarding the difference between plastic and cosmetic surgeons through their popular #KnowTheDifference campaign on social media. If you don't already know about the distinction between these two professions, here's a quick snapshot: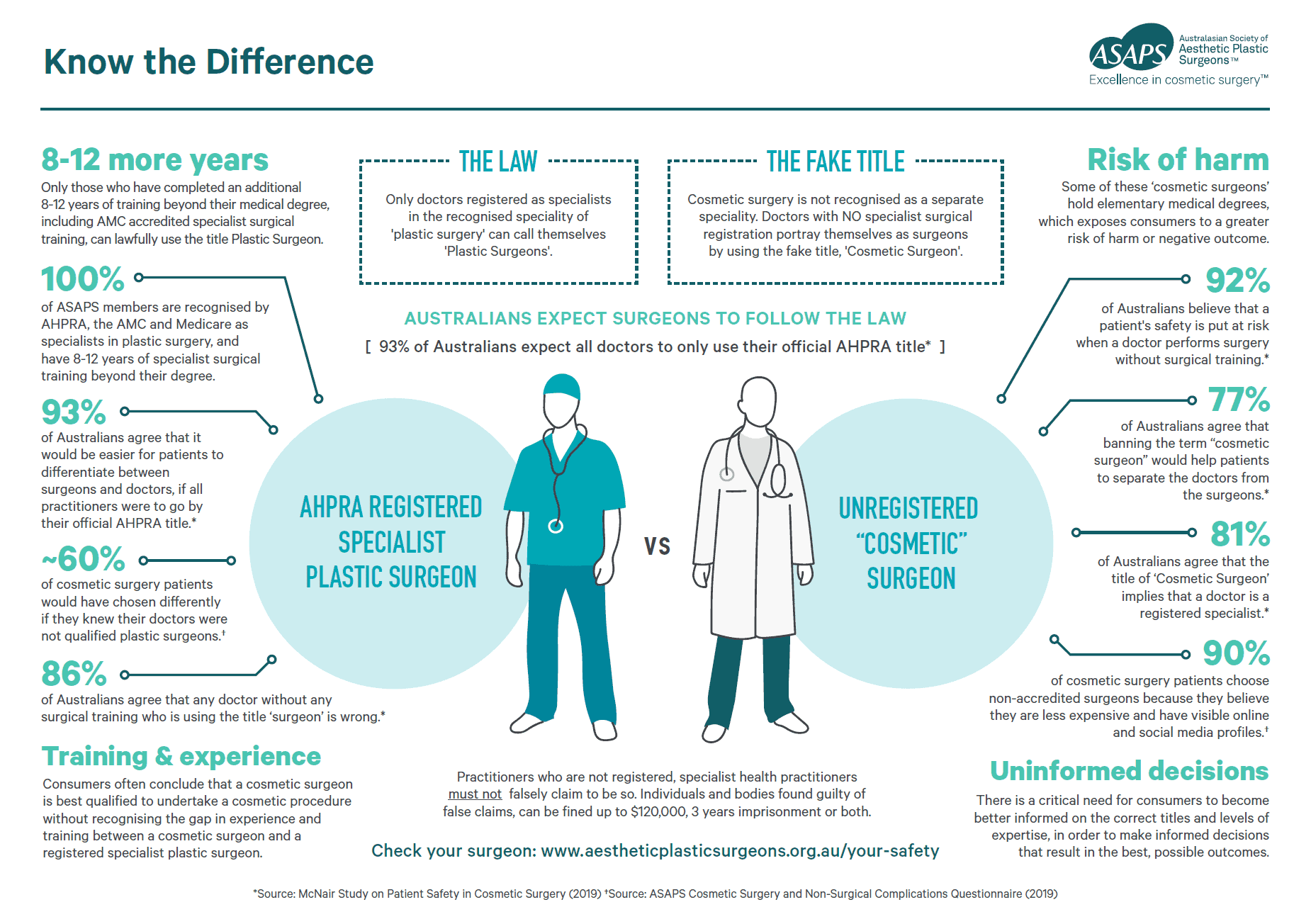 It's clear from the graphic that there are huge differences in the qualifications of plastic and cosmetic surgeons. Plastic surgeons undergo Australian Medical Council (AMC) accredited specialist training to hone in on the skills and knowledge required to provide safe and effective care to patients. Think about where you were 12 years ago, and how much you have learned and achieved in this time. This is how much longer plastic surgeons have to spend (in addition to a full medical degree) perfecting their craft. It is no wonder that industry leaders are calling for a complete ban on the title "cosmetic surgeon" due to its misleading nature, and the potentially damaging impact of this deceitful term. 
Having your surgery performed by a plastic surgeon will always be the more expensive option, but with this expense will come the specialist surgical expertise and knowledge plus access to specialist anaesthetists and accredited hospitals that are integral to ensuring your safety, and the optimal aesthetic outcome. 
Surgical Expertise
Among the various plastic surgeons themselves, another factor that will impact pricing is the specific surgical expertise of the practitioner. Just as people are promoted and receive a pay rise as they provide more value to their employers, practitioners raise their prices as they refine their expertise over the years and provide more value through both their surgical skill, and their patient experience and care. The number of surgeries a practitioner has performed will play into their ability to predict outcomes, adapt to unique anatomical differences, and prevent avoidable complications. These skills will create tangible and intangible benefits for the patient. A common trend we see at Brisbane Plastic & Cosmetic Surgery is patients visiting our clinic seeking breast revision surgery due to aesthetic dissatisfaction. Oftentimes, we find that these patients were not provided with the appropriate recommendations and treatment options with their first surgeon. Many patients are not offered breast lifts, reductions, and other necessary procedures, and they are having to spend thousands more on revision surgery. 
When choosing a plastic surgeon for cosmetic breast surgery, you should consider a number of factors to assess their expertise. Consider the number of breast surgeries the practitioner has performed, whether breast surgery is their specific area of focus, and how many years they have been practising. Transparent platforms such as patient community forums can be extremely helpful in assessing the Surgeon's level of expertise, the surgeon's approach to complications management and more complex surgeries. 
Facilities & Resources
The reason cosmetic surgeons have gained such traction and popularity over the past decade is due to their affordable pricing, charging on average $5,000 for a standard breast augmentation. Considering most fully-accredited hospitals cost in excess of $1,500 for a day admission, and most implant varieties are priced at approximately $2,000, this price seems too good to be true – and it is. 
Plastic surgeons operate out of fully-accredited day hospitals and work with fully-qualified specialist anaesthetists and surgical assistants to ensure the highest standard of care and assurance in the case of any unexpected complications during surgery. Contrast your breast surgery performed in this highly controlled and safe environment with that of breast surgery performed by a doctor who is not a registered specialist surgeon in their own clinic (not an accredited hospital) without an anaesthetic team. There are serious risks involved with this scenario and the risk of serious complications and death is significantly heightened. 
The access to state-of-the-art facilities and resources will add to the price tag of your surgery, but the potential hospital and revision costs that can arise due to poor care will be even greater. Understand the importance of your safety intra-operatively and choose a plastic surgeon that has the resources and facilities to undertake this surgical procedure properly.
Follow-up Care
Follow-up care is an often overlooked aspect of the plastic surgery journey, but is certainly one of the most important. Post-operative complications can occur at any time after surgery and must be managed quickly and accurately to ensure an optimal outcome. Aesthetic concerns can be addressed with tailored garments, in-rooms procedures, massage, and other interventions that can only be determined through thorough review appointments and consistent monitoring. This is why post-operative care is so important not only in the short-term but far into the future. Ask your surgeon what their follow-up plan is to better understand the service offering and what you're paying for.
Paying for a plastic surgeon is not just paying for a surgery, but for a comprehensive and holistic service that spans over the lifetime of your journey and beyond. Feeling supported, understood, and cared for throughout the whole process will play a huge role in your peace-of-mind, comfort, and post-operative satisfaction. 
Final Thoughts
Any surgical procedure has risks. These risks are heightened when a surgical procedure is performed by a practitioner that has limited expertise in the field of practice, and does not have access to the optimal resources and facilities. When choosing a surgeon to perform your cosmetic breast surgery, you should never use price as your guiding criteria. It's important to understand that choosing a cheap option can very often result in higher long-term costs as patients require revisional surgery and must pay for second opinions and proper follow-up care. Do your research, tread carefully, and #KnowTheDifference.
---
Dr Phil Richardson is a specialist plastic surgeon and an ASAPS Member with extensive training and experience in his field. If you have any questions about cosmetic breast surgery or anything discussed in this blog, don't hesitate to contact the rooms at Brisbane Plastic & Cosmetic Surgery.